Basic Training for Digger and Truck Mounted Crane Operators with Hydraulic Derricks DVD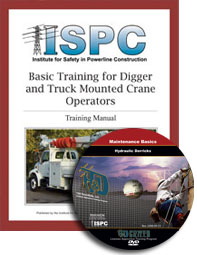 Digger Derrick Operators need a wide range of skills and equipment knowledge to competently and safely dig holes, set poles and lift loads, especially around energized lines and equipment. ISPC's Operator's Training Manual is a newly developed, comprehensive tool that will become a reference guide for Digger Derrick Operators throughout their careers.
Comprehensive guide for OSHA's requirements concerning operator training under 29CFR 1910.269 regulations for T&D operations and maintenance.